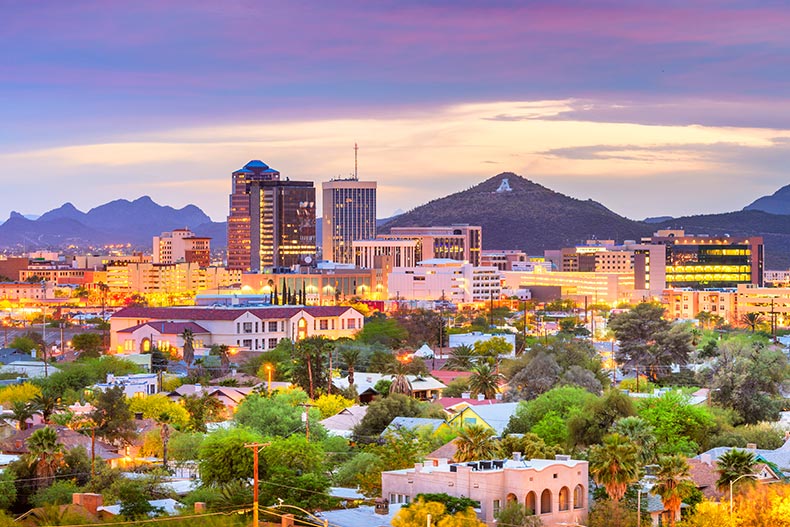 If you want to know whether Tucson or Phoenix will be better for your retirement in Arizona, then you need to take into account things like geography, climate, activities, and the selection of active adult communities.
Phoenix is Arizona's largest city, and Tucson is the second-largest. Although they are less than two hours apart, there are noticeable differences that can help you decide which is the better city for your retirement plans.
Tucson vs. Phoenix Location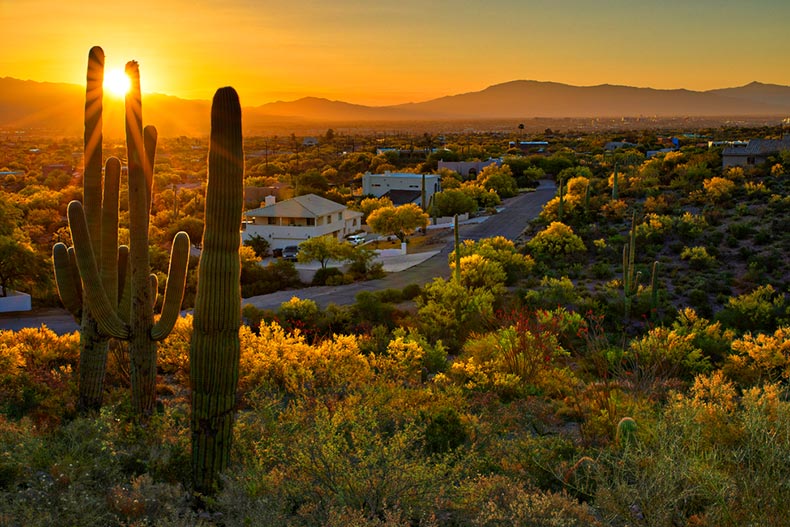 Phoenix is in Central Arizona, and Tucson is in Southern Arizona. Both are surrounded by mountains, but in Tucson, these are on the doorstep, while in Phoenix, they are more likely to be on the horizon. (Although, there are some small mountain ranges within the city itself.)
Phoenix sprawls over a much larger area than Tucson, and it's generally flatter. It's often referred to as The Valley. Tucson is more compact. Being central, Phoenix gives residents easy access to most of Arizona. The Grand Canyon, for example, is about three-and-a-half hours from Downtown Phoenix, but it's five hours from the center of Tucson.
Tucson vs. Phoenix Population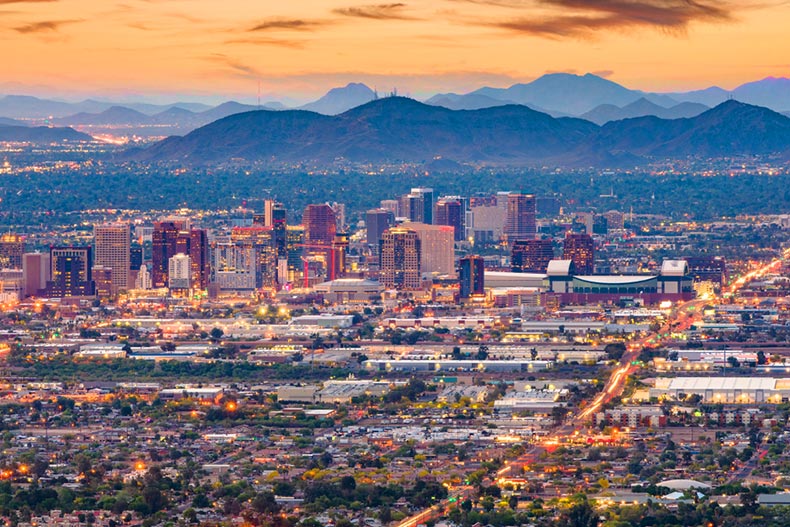 Phoenix spreads over a much larger area and is the fifth most populated city in the U.S. It's also the only state capital city with a population of over one million people. You must also bear in mind that Phoenix is just one city that makes up the larger urban area. Cities merge into each other to create one big urban landscape, and these include Mesa, Arizona's third-largest city with a population of around 500,000; Chandler and Gilbert, each with a population of about 270,000; Scottsdale, with about 240,000 people; and Tempe, with a population of 180,000.
By comparison, Tucson has about one million people in the greater metropolitan area, with about half of those living in the city itself. It's safe to say that Tucson is for people who like small city living, and Phoenix is for those who definitely prefer the big city environment.
Tucson vs. Phoenix Airports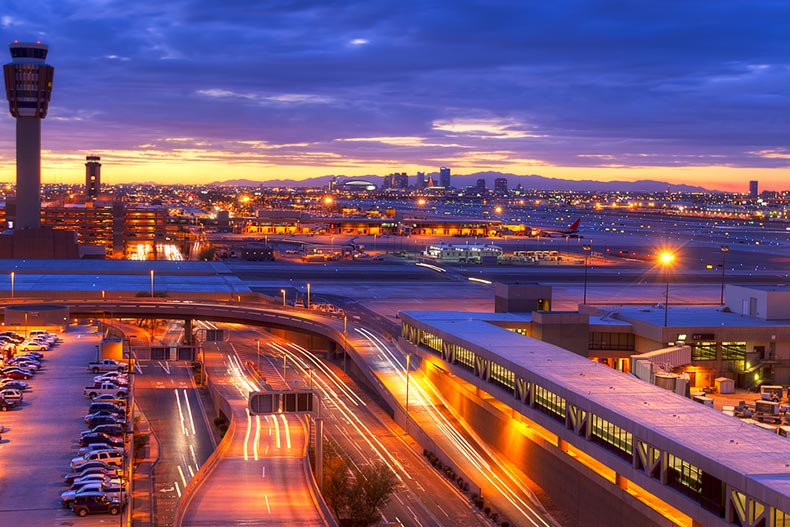 If you're a keen traveler, Phoenix Sky Harbor International Airport not only has flights all over the U.S. but also direct flights to Europe, Canada, and Mexico. The city also has the Phoenix-Mesa Gateway Airport used by Allegiant Air for budget flights to several dozen cities within the U.S. With other airlines flying seasonally to Canada, Arizona is a popular destination for Canadian snowbirds.
Tucson International Airport, despite the name, currently has no international flights but serves many destinations within the U.S. through airlines including American, Delta, Southwest, and United.
Tucson vs. Phoenix Climate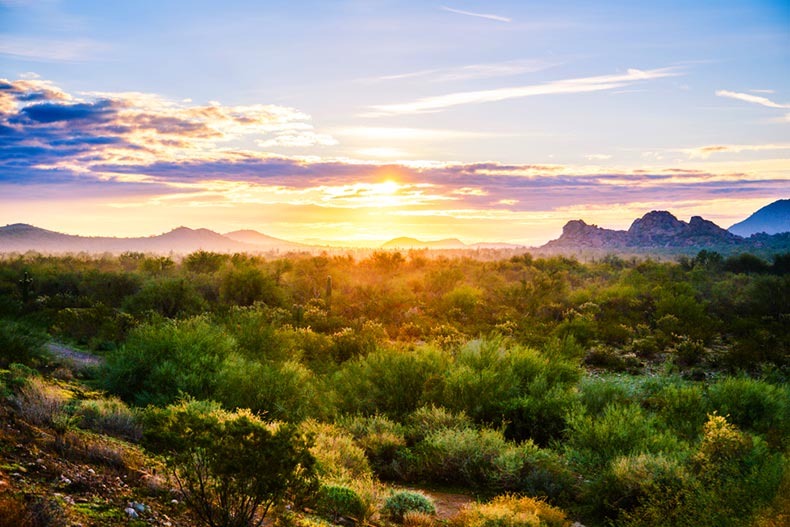 Both cities are in the Sonoran Desert, and although their climates are similar, they're not identical. In the summer months, both cities will experience many days when the temperature is over 100 degrees, (sometimes well over 100 and for long periods). But Tucson is at an elevation of almost 2,400 feet, while Phoenix is a little over 1,000 feet so it's usually a few degrees hotter than Tucson. If you like your sunshine, Phoenix gets more of it than any other major city on the planet—over 3,800 hours a year.
Tucson has slightly more rain, and both cities experience the summer monsoons with short but heavy bursts of rain from July to about September. Winter can see temperatures falling below zero at night, and there can be flurries of snow, but these don't usually last long, and the temperature can be back up into the 60s or 70s by the afternoon.
Tucson vs. Phoenix Activities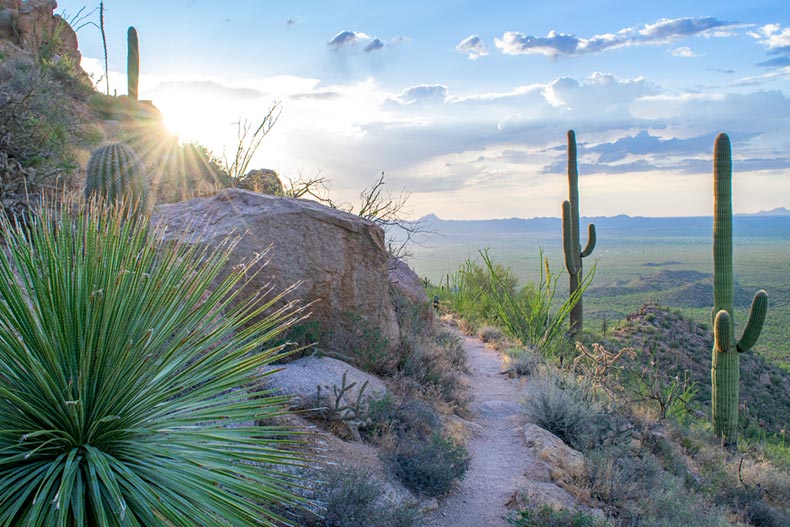 Both cities have a lot to offer, although the size of Phoenix means there are more museums and other cultural attractions as well as major sports. Both have an impressive number of golf courses, and while Phoenix may have more restaurants, Tucson is one of only two U.S. cities to be a UNESCO City of Gastronomy. The bottom line is that Tucson offers more by way of easy access to outdoor activities like hiking, while Phoenix provides a wider range of urban activities.
Tucson vs. Phoenix Active Adult Communities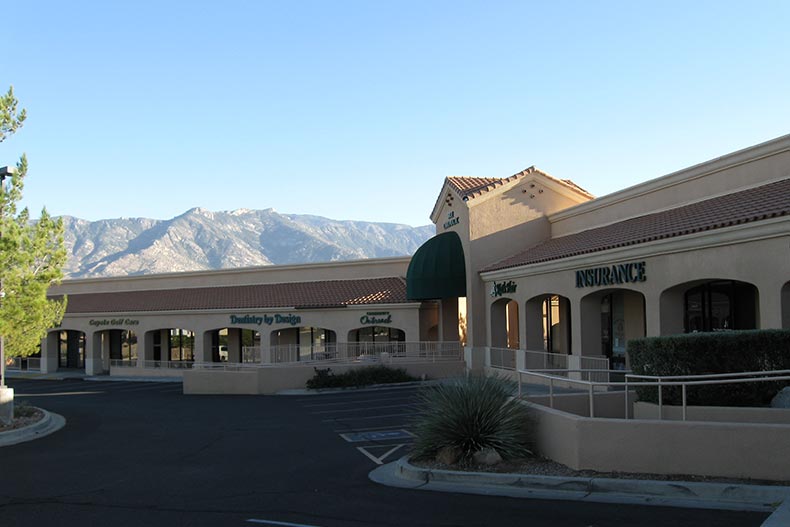 Because of its size, there's a much wider choice of 55+ active adult communities in Phoenix. We currently have 10 communities listed within Phoenix and 82 communities within the larger Phoenix Metropolitan Area. These range from Sun City, the largest and oldest such community in the United States with over 27,000 homes, down to communities with just a few dozen homes.
Also, we currently list 10 communities within Tucson and 18 communities within the larger Tucson area. The largest of the communities is SaddleBrooke with 5,400 homes, but as with Phoenix, there are also communities of just a few dozen homes and every size in between.

I would LOVE to be your go to Real Estate Professional for Tucson. Call me to talk about your options and let m know how I can help make your move a little sweeter! 520-304-5050.